Building a career in finance is the dream of many recent college graduates. Making it happen can be tough without proper direction.
You might envision yourself as a future Warren Buffett, but securing your first entry-level job in finance requires hard work, focus, and even a little luck. For those able to make it happen, the opportunities for financial gain and growth are virtually limitless. But getting your foot in the door isn't as simple as walking in with your degree and asking for an interview.
Every year, recent college graduates compete for a select few positions in the finance world. And while Vocate can help match you with top finance companies on the hunt for recent graduates, there are also some things you can do to improve your chances of being considered.
Here are 3 ways to use your brand-new degree for a career in finance.
#1. To Score an Internship
It might be tough to consider going for an internship after spending four years preparing to enter the job market, but for many recent college graduates looking to get into finance, internships provide a great path to a promising career.
Hopefully you already completed some finance-related internships earlier in your undergrad but if not, there is no better time to start than now. Most internships in the finance field are paid, meaning you will get some recognition for all the hard work you put in (and yes, it will definitely be hard work).
Internships are designed to give young up-and-comers an opportunity to prove themselves. As a result, most companies reserve a select few full-time openings for the top-performing interns. So if you are looking to skip the line of graduates applying for finance jobs and hoping to land an interview, get yourself an internship and be prepared to outshine the competition.
#2. To Build a Quality Network
Relationships matter in any field you decide to enter after college, but in finance, who you know can often be the difference between landing an interview with a top firm and flipping burgers while you wait to hear back on an application you submitted months ago.
As a recent graduate, you are in a great position to leverage your network of friends, family, alumni, and professors to figure out who can help you get a foot in the door. But don't simply rely on someone else to help you get hired; use LinkedIn to strategically follow and engage people at the companies you are interested in joining. Go to networking events and make a goal to collect 20 business cards of people who might be able to help you. Be relentless and leverage the people around you to stand out from the competition.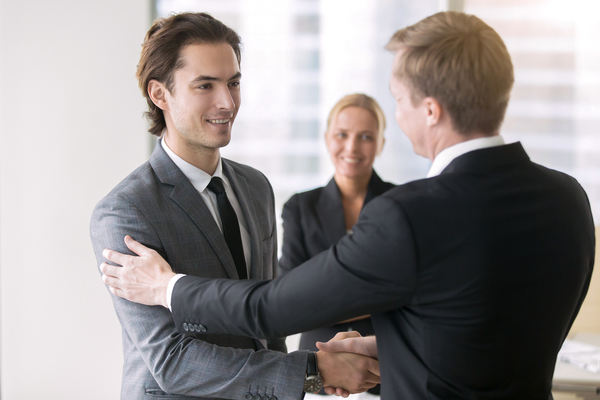 #3. To Lock Down Your First Entry-Level Job
While internships can often help recent graduates land bigger finance jobs with top firms, you can still get hired for entry-level roles without doing an internship first. These three positions are your best bet for entry-level work in the finance space:
Financial Analyst. Few jobs in the field can better prepare you for your own investment strategy than becoming a financial analyst. In this role, you'll either support individuals or companies to evaluate and recommend improvements for current investment opportunities.
Loan Officer. Banks of all sizes need loan officers. Whether you end up working with commercial clients or individuals, the experience you will gain interacting with consumers and large financial institutions cannot be beat.
Financial Planner. Again, a role that may focus on the individual or an entire business. A financial planner works to forecast trends and make recommendations to clients on where money should be invested. Not only will you gain great finance experience here, but you will build up your sales chops as well.
Conclusion
Breaking into the world of finance can be tough for recent grads. Lucky for you, Vocate is here to help.
Vocate gives recent college graduates the opportunity to complete one application and have their information shared with top companies looking to fill entry-level jobs in finance.
It is a 100 percent free service, so check out Vocate today and complete your profile to see what great opportunities are waiting.