For recent graduates on the hunt for entry-level jobs after college, finding the right opportunity that aligns with your interests may not seem all that easy.
After all, your passions may not translate easily into an obvious career path. If you're a lover of comic books, for example, it might not be immediately clear to you how you can develop that interest into a fulfilling career.
Regardless of how obscure or seemingly unfit for real-world work your interests may seem, there's often a set of skills or underlying motivations that have plenty of direct applications in the workplace.
The trick is finding the right job that enables you to exercise those skills and motivations.
That's exactly what this post will help you do. The Vocate team recently published "7 Steps to Successful Career Planning After College," which gives you a high-level overview of how you can seamlessly transition from graduation to your first entry-level job in no time at all.
Last week's post covered the first step, namely, embarking on a path of self-discovery that – when complete – uncovers the innate skills and interests that can help drive your career.
Today's post walks you through a few different ways you can take those skills and interests and find the right entry-level job after college.
#1. Map the Career Paths of Your Idols
Everyone has at least one or two people they admire from a career standpoint. Ask yourself:
Whose work do I admire and respect?
Once you have one or two names, take the time to research how they got where they are today. If it's someone famous – like Richard Branson, for example – it's likely as simple as doing a little research online. If it's someone you know, sit down and ask them a few questions (like the ones below) to get an idea of how their career evolved.
The goal should be to map out their career path on a piece of paper if possible, while focusing on these key details:
Did their career start in their field of interest or did they do other work before finding their current career path?
What was the first job they really loved? Why?
Did they have interests/passions/hobbies outside of work? If so, how did they manage to balance the two?
What advice do they have for someone interested in a similar career path?
What you'll often find in going through those questions is that even some seemingly unrelated work experiences might have helped your idols exercise their core skills or interests in less obvious ways.
For example, our comic book fan mentioned earlier may idolize the cartoonist Scott Adams, creator of the famous strip Dilbert.
Well, a little research shows that after Adams graduated college in 1979, he began working at a bank and later for Pacific Bell. Through his experience working in an office environment, Adams – whose primary passion was drawing – started drawing comics of his colleagues and common work scenarios. Thus, Dilbert was born.
Was working as a bank teller an obvious way for Adams to exercise his artistry?
No, but the experience fueled his creativity and gave him the motivation to pursue his passion.
Of course, you're not going to go and create another Dilbert, but that doesn't mean there's not value in understanding how Adams used his earlier, seemingly unrelated jobs to exercise his creativity and passions.
In fact, mapping the career paths of your idols can introduce you to potential avenues you hadn't previously considered, while also helping you avoid the same missteps they made early on in their career.
#2. Leverage Your Network
Often, the greatest source of potential opportunity exists with the people who know you and your talents best – your direct network of friends, family, and fellow alumni.
That's why one of the best things you can do in your search for an entry-level job after college is talk to those closest to you about exploring potential opportunities.
There are a number of different ways you can utilize your network, including:
Helping you discover jobs that align with your skills and interests.
There are some careers out there that might be a perfect fit for someone with your skillset that are not currently on your radar.
That's where speaking with people within your network can be an incredible help to you in your job search; you don't know what you don't know, so the more input you can get from people you trust, the more doors will open for you when exploring new opportunities.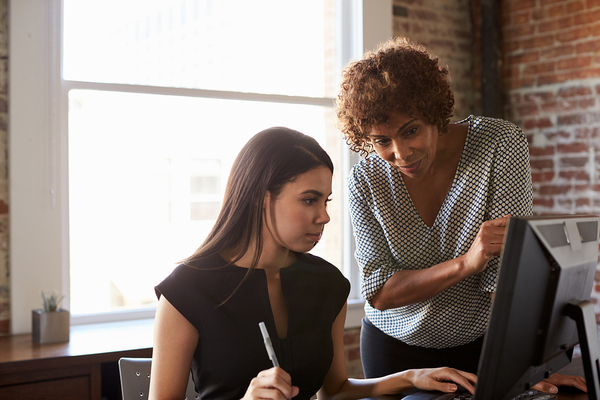 Teaching you valuable interview skills to ensure you succeed in interviews for top positions.
Let's say you find the right entry-level job with a tech company. You're really excited about the opportunity and want to make sure you hit a home run in the interview.
Well, it's a good idea to figure out who you might know – even indirectly – that has experience interviewing with that company. Use social media platforms like LinkedIn and Facebook to figure out who you know that either works there currently, or perhaps interviewed there in the past, and then ask them for 10 minutes to go through a couple questions you have.
You'll be surprised how willing people are to help recent graduates launch their careers.
Actually introducing you to new opportunities.
Finally, of course, there's the potential that someone within your network might be able to help you actually get your foot in the door with their company. Be weary of this, though; just because someone can help you get an entry-level job doesn't mean it's the right job for you and your interests.
Stay true to your passions and goals, even at the cost of turning down an opportunity to gain a competitive advantage through a member of your network.
#3. Create a Profile on Vocate
Vocate can be an incredible tool for finding internships that align with your interests and companies interested in hiring recent graduates for entry-level jobs.
That's because Vocate walks all new users through a series of exercises that help uncover your interests and passions. Then, after completing just one application, Vocate matches recent graduates with top opportunities that may be a perfect fit. Give Vocate a try today!