In a recent post here on the Vocate blog, we explained the importance of maintaining a growth mindset when exploring options for careers after college.
If you didn't get a chance to read it in full, definitely check it out. But in short, the idea is this:
From small startups to Fortune 500 companies, businesses want to hire recent graduates with an appetite for learning and growth.
That's because growth-minded entry-level employees are more ambitious and less ego-driven than their fixed mindset colleagues. If you come into a new job hungry to learn, you're more likely to be adaptable, to seek out answers rather than waiting for someone to teach you, and to be vocal when something isn't working or you need more guidance and support.
That's all incredibly valuable for companies that want to develop entry-level talent, and need recent graduates invested in their careers to help ensure mutual success.
But it's one thing to say "I have a growth mindset" and another to actually take the steps in your career to demonstrate how important learning and development are to you.
With that in mind, here are five ways 2017 graduates can embrace a growth mindset in their careers after college.
#1. Always Have Goals
You've heard the importance of goal setting before and maybe even dabbled in writing down goals for school or your job search.
Few graduates understand how important setting goals (and continuously revisiting them) can be to finding success in their careers after college. Here are a few things to consider when setting your own goals:
Always write down your goals. Thinking to yourself, "I'd really like to…" doesn't count as a goal. Your goals should be mini-commitments you make to yourself about what you will accomplish. Writing them down helps to solidify that commitment. Bonus points if you share your goals with someone else who will hold you accountable (that helps make it even more real).
Break big goals down into lots of smaller ones. There's nothing wrong with being 22 and saying you'd like to be the CEO of Microsoft someday. But if that's the one goal on your calendar, you're going to be missing a whole lot of steps to get there. Goals should be broken down into ideally 6 month (at the most, year-long) increments to ensure you're staying on track and progressing along the right path.
Don't be afraid to abandon a goal (as long as you replace it with a new one). At the early stages of your career, you might think you want to do one thing, only to find along the way your true passion lies somewhere completely different. That's totally okay! Don't be afraid to dump a goal in favor of a new challenge more in-line with your latest passions.
#2. Seek a Mentor
While the best companies for recent graduates are likely to assign you a mentor at the start of your career, always be on the lookout yourself for people at your company doing what you want to do. Don't be afraid to align yourself with them.
Obviously, a formal mentor/mentee relationship would be ideal, but even if that's not an option, ask the person if they'd be comfortable with you coming to them with questions on occasion. It always helps to start off your request with a bit of flattery. Something like:
"Hey, I really admire what you're doing here and really hope to see myself on the same career trajectory while working here. Do you mind if I come to you with career questions every once and awhile or tap you for advice when I'm on the fence about a big decision? I'd really appreciate it."
You're not likely to find too many people unwilling to accommodate such a humble request.
#3. Find Out What Others are Reading
Books are one of the best ways to stay up-to-date with business trends and groundbreaking ideas to catapult your career. With so many books out there, it can be really difficult to even know where to begin.
Ask your boss, mentor, or even just fellow colleagues for some reading suggestions. If you're feeling extra ambitious, maybe even try getting a book club going to promote sharing ideas throughout your team and to give yourself a group of people from whom you can learn and with whom to discuss books.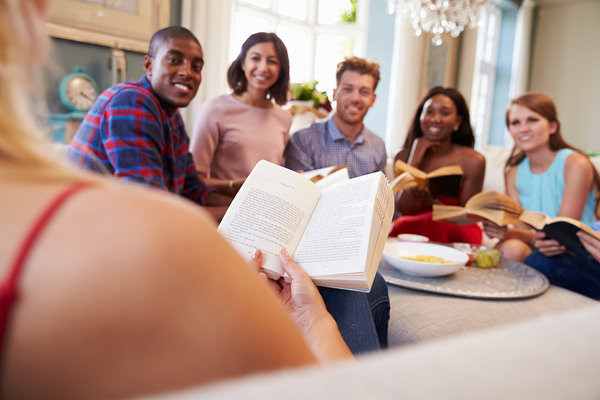 #4. Explore Lateral Job Changes
It's a common misconception that the only way to grow your career is "up." Lateral job changes – especially at the early stages of your career – can boost your personal stock by diversifying your experience.
There's also the added benefit of trying out a broad range of different jobs before officially settling on the career path you'd like to follow. That's why many large tech companies actually rotate you through several different jobs in your first couple years at the company.
#5. Take Your Reviews Seriously (and Make Sure Your Boss Does, Too)
Your annual review is the one time each year where you and your boss will formally reflect on your job performance, skill gaps, and career goals. It's really easy, in the midst of your day-to-day responsibilities, to shrug off the importance of your review and not give it the serious attention it deserves.
You can't rely on your manager to lead the conversation – it's on you to be prepared. That's why it's always a good idea to reflect on your recent successes and projects and write out your career goals before heading into your review. Then, ask your manager what you need to do to get there and have him or her help you revise your goals down into smaller, digestible chunks.
Conclusion
If you have a growth mindset and are ready to start exploring careers after college, Vocate can help put you in touch with thousands of companies looking to hire recent graduates like you. Check out Vocate today to learn more.