It wasn't too long ago that finding a job after college felt a lot like signing off on a career choice for the rest of your life.
Your grandparents (the "Silent Generation" born before 1946) often labored at the same company for the entirety of their career to earn a pension and retire at a reasonable age.
Then came the "Baby Boomers" – your parents' generation. A recent study showed more than 40 percent of Baby Boomers stayed with the same company 20 years or more. That's a long time to be making the same commute day in and day out (and it might also explain why your parents were so cranky sometimes).
Now, there's you: the "Millennial" generation. Negative characterizations of Millennials include laziness and self-entitlement, but you know the truth; you're ambitious, goal-oriented, and smart. The data backs that up. Millennials hold the title of:
Most educated generation in Western history
Most technologically savvy generation
In-tune with social issues and politically involved
Most entrepreneurial generation
All of that is great, but for recent college graduates, it can also make the path to finding a job after college a bit confusing. After all, this is one area where perhaps your parents can't be looked to as role models.
Millennials are redefining the way companies recruit and retain talent, which means your job search process will look fundamentally different than the one your parents went through after graduation.
Furthermore, career trajectory means something totally different today as well. "Climbing the corporate ladder" isn't necessarily the only path nowadays. There are many different directions you can – and likely will – take your career.
That's why the Vocate team has put together this roadmap to the jobs of the future. Vocate works with thousands of recent graduates each year to help them find a job after college. As a result, we have a finger on the pulse of career and recruiting trends that can help you more easily navigate your way to the right job after graduation.
This guide walks you through everything you need to know to successfully find the job after college that can launch the rest of your career. Ready to get started? Let's dive in.
First, What Do Millennials Actually Want From a First Job after College?
It might feel a bit weird to have to read an article about what it is you want from a job, but as a recent graduate, it can be tough to break your career goals down into digestible chunks. Of course, everyone is different and there's nothing wrong with wanting to work for the same company for the next 20 years like the Baby Boomers did. Even if that's your goal, however, the approach to making it happen has changed since your parents were on the job hunt.
Businesses are spending a lot of time (and money) researching what motivates Millennials in the workplace. That's because Millennials make up the largest generation in western history, and even the youngest of the group are now eligible to be entering the workforce. Millennials are now the largest demographic in the U.S. workforce, and your motivations are fundamentally different than the generation before you. As a result, companies need to course correct in order to compete for (and retain) the best Millennial talent.
Here are some broad generalizations of what recent graduates like you are looking for in their first job after college:
Opportunities to learn. Recent graduates recognize that each job they hold is a stepping stone to the next opportunity in their career. As a result, landing with a company that can teach them the skills needed to elevate to the next level is a top priority for Millennials.
Growth potential. Along with the learning experience comes the actual opportunity for promotion. Millennials (like generations before them) lean toward companies with a clear path for growth. Is there a history of promotions for entry-level jobs? Do people tend to stick around after the first year? These are questions Millennials might ask when evaluating growth potential at a company.
Great leadership. This ties in with the learning piece as well. Contrary to the perceived stereotype some hold about Millennials, this generation isn't made up of a bunch of "know-it-alls." In fact, Millennials are likely to recognize when they're in the presence of someone from whom they can learn something and potentially leverage for growth. That's why recent graduates are paying more attention to both senior leadership and direct managers at companies where they interview. A direct manager that invests in the careers of his/her employees and helps them take the next big step has become a must-have for many people entering the workforce.
A strong mission and values. Millennials care much more about what's going on behind the scenes at the companies where they interview. Twenty years ago, a company mission statement might not have even existed. Today, missions are published on websites and frequently referenced in company press releases. That's because ensuring the company for whom you work aligns with your own views and values means a lot. Companies know that and make every effort to build a company supported by a strong mission and values.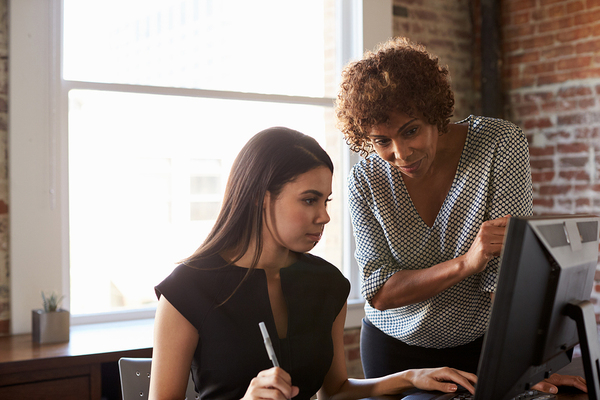 What Don't Millennials Care About as Much?
Now, notice what's missing from this list:
Compensation. Of course, money is important. You need to pay your bills and you want to have fun, too. But recent graduates recognize that their first job out of college may not be a cash cow. The goal is to find a job that can launch you to that stage of your career where you can demand a high salary – not just go for the biggest payday right out of school.
Perks. If everything else is equal, cool company perks might influence a candidate's decision on whether or not to accept an offer. Notice the term "might." The truth is, ping pong and beer kegs sound cool in theory, but recent graduates know that if you're unhappy in your job, no amount of free food is going to make things better.
Now that companies know what's important to you, let's take a look at how the job search and recruiting process has evolved.
The New Way to Find Your First Job After College
You recognize (more so than any generation before) that advancing your career might mean taking a step away from your current company and exploring opportunities externally.
The data supports that theory; according to Gallup, 60 percent of Millennials are willing to consider new job opportunities. That means recruiters today can be more aggressive in contacting qualified candidates. It also means there's potentially more competition for jobs, which in turn means you need to make a bigger effort to stand out to potential employers.
Here's what you need to be doing as a recent graduate:
Build Relationships with Recruiters and Career Strategists. Whether you're looking for a new job or not, it's almost always worth your time to spend time on the phone with a recruiter or career strategist. You'll accomplish two things by doing so. First, you'll find out your value in the market. Is the job you were contacted for above or below your experience (and compensation) level? That's generally a good indication of where you stand. Second, you now have a contact should things ever go south with your current job. Recruiters and career strategists can be gatekeepers to huge opportunities and often have the inside knowledge needed to help you succeed in an interview process. Make friends with the best of them in your industry and never turn down the opportunity to hear what they are working on.
Be Active on the Right Social Networks. There's no hiding on social media anymore. Sure, you can make your profiles private, but ultimately if there's dirt to be found online, a potential employer can find it. The best way to overshadow your beer pong pics on Facebook is to draw attention to your strong presence on the networks where professionals spend time – namely, LinkedIn and Twitter. Regularly publish and share quality content relevant to your interests and expertise, and engage with (like, comment, share) content from top influencers in your industry. That active presence will help promote the right social engagement for you online.
Keep Your Resume Short and to the Point. There are a million articles out there detailing best practices for your resume and most of them are filled with either outdated or inaccurate information. Here's the one guiding light to follow when it comes to building a good resume. Keep it short. Luckily for you, as a recent graduate with little experience, you should find this to be fairly simple. But as you grow in your career, remember that your resume isn't meant to tell a hiring manager everything about you. It's your sales pitch, your call to action. Your resume should dangle the carrot just enough to get a hiring manager interested enough to speak with you for an interview. No one reads long resumes; keep it short.
Get Your Name Out There. Lastly, apply to a lot of jobs. Competition is steep for top positions and hinging all your hopes on one opportunity might leave you high and dry. To be clear, this doesn't mean you should apply for jobs in which you are not interested. What it does mean is do your research and find companies interested in entry-level talent about which you're excited.
Now, the process of actually finding and applying for all those jobs can be incredibly time-consuming and tedious. Luckily, Vocate is here to help. With Vocate, recent graduates can complete one job application and have their resume shared with thousands of companies interested in hiring entry-level candidates.
Vocate has introduced over 10,000 college graduates to potential opportunities and is an easy, free way to get your name out there and start having conversations with companies that can help you launch your career. Sign up for Vocate today and start taking advantage of our personal and professional career resources.