For recent tech graduates, this might be the best time in history to be starting your careers after college.
IT jobs are expected to grow by 22 percent by 2020, with software developers alone expected to see up to 32 percent job growth by the end of the decade. That's significantly faster than the rest of the US workforce, which means you'll have a much easier time than some of your classmates locking down a job and getting started on an exciting career.
Job growth for tech graduates is explosive, partly due to the demand for tech talent in industries outside Silicon Valley. As mentioned in a recent Vocate post, one new area seeing tremendous tech growth is the education industry, with booming opportunities sprouting up in the world of education technology – otherwise known as "edtech."
How Do Education and Technology Come Together?
Remember growing up with teachers who thought that classroom projectors and Windows XP were all the rage? Education and technology have a storied history together. Just ask your parents; their teachers believed calculators were the best thing since sliced bread (but still wouldn't let students use calculators on tests).
The education space has generally welcomed technological advancements with open arms. After all, when you're responsible for getting a group of 30 hormonal, rambunctious teenagers to understand geometry, you'll take all the help you can get.
But the current edtech revolution marries the classroom and technology in brand new, exciting ways that subsequently open doors for exciting new careers after college for recent tech grads.
Let's take a look at some of the more common entry-level jobs in the edtech market.
What Entry-Level Jobs Exist Within the Edtech Industry?
If you're interested in breaking into this fast-growing space, first you need to decide if you want to "stay local" or go big. "Stay local" means picking up an IT job in a school district. Going big means joining a fast-growing startup in the edtech industry. The good news is that there's plenty of opportunity on either side; it's just a matter of preference.
If you choose to stay local, you might look at a job as a technology integrations specialist or technology support specialist. Both roles are often in demand at local school districts and often look for entry-level talent.
Technology integrations specialists focus on finding the best opportunities to actually bring new systems and software into the classroom. You'll be responsible for staying on top of current edtech trends and choosing solutions that meet district goals and remain within budget.
If you prefer to get more hands-on, technology support specialists work on-site in the schools making sure everything is up and running properly. It's your job to ensure each classroom is equipped with the right technology and that, when problems occur, you're able to fix them.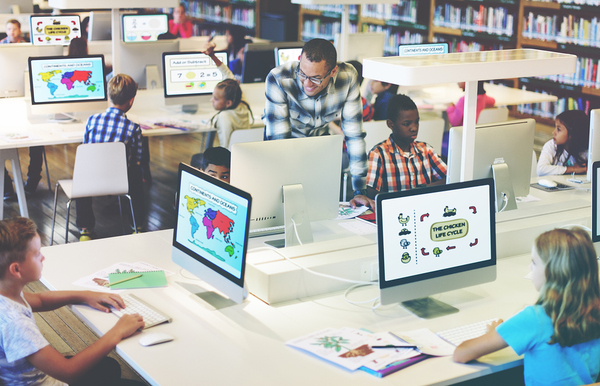 If you choose to go the startup route, first you need to think about whether a job in a startup is right for you. Startups are, by nature, fast-paced environments. But the world of edtech takes "fast-paced" to a whole new level. Ending up at a growing edtech company might often feel like you're on a rocketship. Some college grads love that. Others strive for something a bit slower for the first job of their careers after college.
If you're part of the former and not the latter, here are just a few cool jobs you might encounter in the industry:
Instructional Designer
As tech companies develop new tools and apps to improve the way kids learn, more and more openings are cropping up for entry-level instructional designer roles. Instructional designers actually put together the content used within the learning platform. That means a big focus on learning how people learn. Your job will be to make content fun, engaging, and informative, but most of all, sticky. How do you get users to continue to come back for more?
The role requires quite a bit of collaboration with other teams (graphics, copywriters, marketing, etc.), which is a great opportunity for a recent graduate to learn communication and project management skills.
Software Developer
As mentioned earlier, software development jobs are on a meteoric rise; the edtech space can be a great place for a software developer to take advantage fully of all the great opportunities while also contributing to a noble cause.
As with any startup, edtech companies need top-talent to actually build, maintain, and improve their software platforms. Entry-level software development roles at edtech companies can be a great chance to get your feet wet with some real-world coding. Fast-growing startups need developers to begin contributing immediately, so you'll benefit from seeing your work in the hands of thousands (maybe even millions!) of users long before some other entry-level developers at top tech giants might.
What Skills are Most In-Demand in Edtech?
Here are some of the skills that top edtech companies – like Blackboard, iTutorGroup and Coursera – look for in their candidates:
Bachelor's degree (no advanced degrees required)
Tech background (degree, internships, projects)
Communication skills
Genuine passion for education
Sales/relationship management
Software development
Research skills
Business operations chops
As you can see, unless you want a job where coding is involved, most roles within edtech companies don't require technical skills. Startups want like-minded individuals whose love for technology is only matched by their passion for education.
Conclusion
Finding your first job in edtech is made easy with the help of Vocate. Sign up, complete just one application, and get served up great opportunities with top companies across all industries (including edtech) interested in hiring entry-level talent. Sign up for Vocate today and join the over 10,000 students who have already been presented with great opportunities.