So, you've decided to explore entry-level jobs in finance as a recent college grad?
Well then, congratulations! You just hit the jackpot.
Starting your career as a financial analyst means faster than average career growth opportunity; it also means the ability to work in pretty much any industry you choose.
That's particularly exciting because of the recent explosion of startups in the fintech space. As a result, there's never been a better time to be working as a financial analyst.
In this post, Vocate takes a deep dive into everything you need to know as a recent graduate looking to land an entry-level financial analyst job in fintech. We'll give you a quick rundown of the job, then share exactly what you can expect in terms of opportunity (both now and in the future).
#1. Here is What You'll Do as an Entry-Level Financial Analyst
We're sure you've already done your fair share of research, so we'll keep this short.
An entry-level financial analyst focuses on managing budgets against income forecasts. Depending on the size of the company you choose, that could be for a single division or the entire company (or could even be client-facing, not internal), but in either instance the basic principles are the same. You want more money coming in than going out.
Seems simple enough, right?
Well, if you're working for a well-established, fiscally responsible company that's also reached the point of sustainable profitability, that can be fairly simple. Realistically, however, those jobs aren't opening up to you straight out of college.
And honestly, that's in your best interest. More than likely, you'll be working with a team of analysts – fellow juniors and some senior analysts as well – to analyze income statements and make intelligent recommendations on how the division/company can make more money. That's critical experience to take with you throughout your career.
What does that look like in your day-to-day?
You'll be putting together financial reports (and potentially presenting them to executives), forecasting incoming revenue, running business studies, and using all that information to advise your company on how they can spend less and make more.
Sound up your alley? If so, here are the best industries for entry-level jobs in fintech.
#2. These are the Industries Where Financial Analysts are in High-Demand
The good news for you is that nearly every company in every industry has a need for a financial analyst. At the end of the day, business owners often want the perspective of a professional (that's you!) in how to manage their business's finances. So you might find yourself working as a financial analyst in entertainment, healthcare, manufacturing, or even government.
But, if you want to hedge your bets on where you're most likely to find an entry-level job in finance, look no further than the fintech space.
Financial analyst jobs in fintech are in high demand as startups continue to crop up and grow. Not only do these businesses need financial analysts to manage their own revenue, but they also need recent graduates on the front lines working with clients to analyze data through the use of whatever tool or service the startup has built.
And that demand is only going to continue to grow. VC funding in fintech hit $13.6 billion in 2016 – a 7 percent increase over the previous year. That number is expected to continue to go up and to the right in 2017, meaning bigger opportunities in fintech for financial analysts.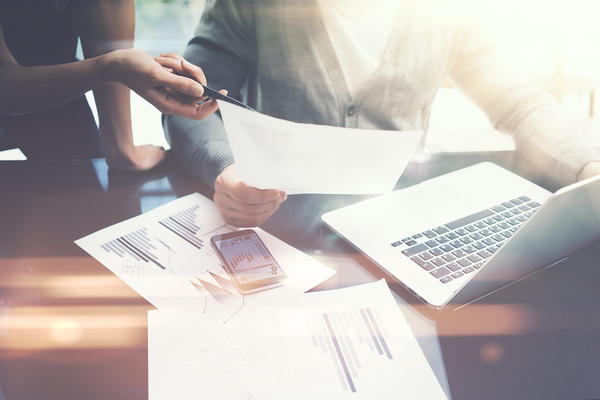 #3. Here's the Typical Career Trajectory for an Entry-Level Financial Analyst
Considering all the opportunity and investing going on in fintech, it's safe to say careers as a financial analyst don't risk too much of a bottleneck in long-term career trajectory.
Though you'll likely walk in the door as a junior analyst, progressing to a senior analyst can happen fairly quickly (in 2-4 years), provided you're hardworking and a good performer. From there, a traditional path in finance might take you to becoming a portfolio or fund manager, but in fintech, the sky really is the limit. You might find yourself better suited for a career in sales, customer success, or recruiting.
All are possible options for entry-level financial analysts.
Conclusion
Finding your first job in fintech can be a whole lot easier with the help of Vocate. After signing up and completing just one application, recent graduates get served up potential opportunities with top companies across all industries (including fintech) interested in hiring entry-level talent. Sign up for Vocate today and join the 10,000 students who have already been presented with great opportunities.