Recent graduates know that choosing your first job after college comes with lots of big decisions.
Pursue an internship first or jump straight into the workforce?
Relocate and try someplace new or stay local?
Take some time to find the right job fit after graduation or waste no time embarking on your career?
Tech grads also need to think about the size of company where they will feel most comfortable. Entry-level IT jobs at a small startup differ greatly from those at a large corporation and deciding between the two can be tough, especially straight out of college when you don't have experience with either.
As a recent graduate, Vocate can help you find entry-level jobs with top startups. But before diving in, learning the pros and cons of working for a small company with big plans for growth should be a top priority.
Here is what you need to evaluate when considering whether an entry-level job in a startup is right for you.
The Perks
Compensation
Getting your foot in the door early at a growing startup can often mean a bigger payday in jobs for college graduates.
Larger corporations typically have set pay plans with salary caps based on job title and experience level. For recent graduates, this likely means starting at the bottom rung of the pay ladder and seeing only incremental raises year-over-year.
In a startup environment, on the other hand, salaries are usually just one piece of your comp plan. Most early-stage startups offer equity in the company: the opportunity to own a piece of the business and a stake in its future. If the company were to go public or get acquired down the road, your equity shares might be worth enough to get that Tesla Model S you've been eyeing online.
Growth
When working for a company with only a handful of employees, talent stands out. Things can move quickly. You might get hired to manage social media only to find yourself making sales calls or managing a team of interns two weeks into the job.
If you're flexible and eager to get involved in projects that might not technically fall under your job description, the opportunity for growth at a startup can be unparalleled. You could find yourself with a VP of Marketing title well before your 30th birthday while your friends on the corporate side are still fighting tooth and nail for that Associate Marketing Manager promotion.
Culture
The startup life is about a lot more than ping-pong tables and beer kegs. Yes, startups are known to be fun, casual environments, but the real experience comes from working with creative people excited about their work. The highs are high and the lows can be low, but the energy in a successful startup can be contagious.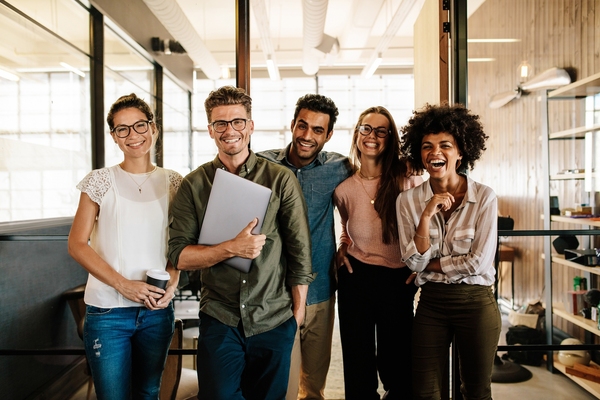 The Pitfalls
Work/Life Balance
Working for a startup means a lot of hard work. That can translate into long hours that stretch beyond the traditional 9-to-5 of the corporate world. For recent college graduates looking to learn critical work skills quickly, you will be hard pressed to find a better crash course in your field than helping build a successful startup, but be ready to put the time in to make it happen.
Job Security
No one likes to think about their startup failing, but the truth is, it happens. Often, in fact. Whether that means the company cutting down on headcount and sending you to the chopping block as an entry-level employee, or the entire company going belly-up, joining a startup can be a risk. Of course, if things do go well, the payoff can be absolutely life-changing, so you just need to assess whether the juice is worth the squeeze.
Conclusion
Joining a startup for your first job out of college can catapult your career. Vocate can help you get there.
Instead of sifting through all the entry-level jobs on career sites, Vocate allows you to complete a single application that is then shared with thousands of startups interested in hiring recent college graduates.
The best part? It is completely free. Sign up for Vocate today to see what startups are interested in you.