When you get that first job offer post-graduation, the experience can be heady. Relief, excitement, and enthusiasm all come into play.
On the one hand, you might be looking forward to a salary that affords something more than your usual diet of instant ramen every night, but you know deep down that your job offer is about more than just money. You may also find yourself with a job offer in-hand wondering: how can I be sure my first job after graduation is the best one for me personally and professionally?
First, take a deep breath and congratulate yourself. You did it! You received a job offer! You can tell your parents to stop worrying so much.
But before accepting that job offer, be sure to read this article. Sure, you may have gone through all the steps to ensure you applied only to companies that were a right fit for you and your career goals, but that does not mean all job offers are created equal.
The Vocate team believes your first job after graduation should propel your growth as a professional in your field. There are a number of important factors to consider when evaluating your offer, including:
Does this job speak to my passions? Will it make me want to get out of bed every morning?
Will this job offer me abundant opportunities for personal and professional growth?
Are the compensation and benefits in line with what I need and with industry norms?
Is the company offering the job well regarded in its industry?
To whom will I report? Who within the company will be mentoring me?
Let's examine these factors in a bit more depth.
A Love Match
Finding the right fit for your passions and interests is one of the trickiest parts of evaluating a job offer. You may feel some pressure to accept a job right out of the gate, especially if your job search is lasting a bit longer than you would like.
However, it makes sense to remember that once you accept a job, you will be responsible for maintaining your enthusiasm for it every day. If the job offer you are considering does not match your current interests, it will be hard to be passionate about getting up every morning and trudging to work. When evaluating your offer, take some time to really picture yourself in the position day in and day out. Can you see yourself performing your job duties happily? If so, that is a great indication that the offer is worth your consideration. If not, proceed with caution.

Top-Notch Training and Education
Your dream career may be to become a data scientist at Google or the lead software engineer at Airbnb, but you will not get there without first locking down the core skills you need to succeed in your field.
Classroom experience is great, but recent graduates often lack the real-world experience needed to catapult a career. That is why your first job after graduation needs a top-notch training program.
Ask your potential future employer these questions to evaluate their training program:
Do you have a structured onboarding plan for people in my role?
How long is the ramp period before I'm expected to be performing my role in full?
Will I have a specific "onboarding buddy" assigned to me?
Does the company have someone in place whose sole responsibility is training and educating employees?
Are there different professional development tracks supported after initial onboarding?
Does the company reimburse or pay for certain certifications or education programs outside the workplace (i.e. an MBA or project management professional certification)?
A company that invests in training and educating its employees ultimately benefits just as much as the employee. A structured onboarding program increases the likelihood retention after three years by 58 percent.
Make training and education a primary focus when evaluating offers for your first job after graduation to ensure you are joining a company that can help you continue to gain the skills you need to build a successful career.
Potential for Growth
Jumping into your first job after graduation without assessing long-term career opportunity is like diving into the deep end of a pool without first checking to be sure it's not a Jacuzzi.
Each job you take in your career – whether within the same company or different organizations – should have a domino effect, leading you to the next step in your career trajectory. So when evaluating your first job offer after graduation, do not accept a position where the people who came before you are not on an upward trajectory.
Ask your potential future employer for a chance to speak with current employees who have grown from this role into bigger positions internally or externally. Use their testimonials as a gauge of whether or not the role will take you where you want to go in your career.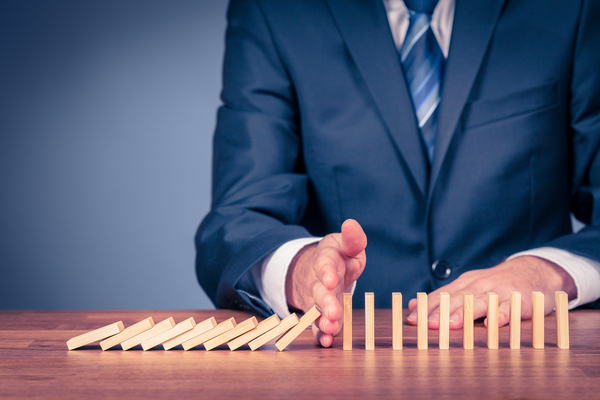 Your first job after graduation should have a domino effect on the rest of your career
Competitive Salary and Benefits
Everyone wants to get paid. And if you pursue one of the top entry-level jobs for college graduates, chances are you will end up with a great starting salary.
That said, accepting a job offer based on salary alone can be the wrong move for your first job after graduation. A smart graduate evaluates an entire offer – including perks and benefits – and does two things:
Compares the offer to compensation packages at similar-sized companies using sites like LinkedIn or Glassdoor. Beware of ridiculously high offers just as much as low-ball offers.
Weighs the compensation package against the training program and opportunity for growth. Sometimes, your first job after graduation may pay a little less than you were hoping, but the opportunity is good enough to set you up for long-term success.
Accepting the highest offer does not necessarily mean accepting the best job for you. Put the salary, benefits, and growth opportunities under a microscope and really evaluate the whole package before accepting an offer.
Reputation
Another serious consideration is the reputation of the company making the offer. There are two important factors here: (1) Will you feel proud to work with this company? Do the company's values and mission align with your personal values? and (2) If in the future you should decide to seek employment elsewhere, will working for this company look good on your resume, or will it be a potential blot on your career history?
A clear and honest examination of your feelings and a realistic evaluation of the company will help you to decide whether the job offered is actually the best fit for you.
Conclusion
Your first job after graduation launches your career in the field you have chosen. Vocate helps you find the right company to make it happen. Vocate enables you to complete one application and have real jobs with great companies matched to you daily. Do not miss out on the career opportunity of a lifetime. Sign up for Vocate today and find the job that will help your career take off in the right direction.