Hiring managers have a complex role, especially when it comes to helping recent graduates have a successful launch into the working world. The first part of this series examined where the gap exists between the expectations of hiring managers and new grads. In Managing Expectations Part Two: What Hiring Managers Need to Know about Recent Grads, Vocate takes a closer look at the role of the employer to ensure success with productive, engaged, and positive employees.
Talkin' 'Bout My Generation
While there are no "official" definitions for different generations (e.g. Baby Boomers, Millennials), the so-called Generation Z is often considered to be those born between 1994 and 2010. The oldest of these Gen Z members are just now graduating from college and entering the workforce in large numbers.
According to blogger Richard Madison, Generation Z has a lot of particular characteristics that differentiate it from other generations. Here are a few facts about these soon-to-be coworkers:
Graduates are often saddled with significant student loans.
Having grown up during the Great Recession, many are jaded and skeptical about Big Government and Big Business.
They are keenly interested in work-life balance, and will often prioritize growth opportunities over salary.
Their notions of loyalty to a company are unlike those of older employees.
They expect to find and use a mentor.
Having been reared on video game consoles, smartphones, tablets and laptops, they find technology use easy.
They are flexible, entrepreneurial, and realistic.
Their outlook and expectations from a career differ greatly from those of older workers. To wit:
A third would like to retire by age 60.
Fewer than 1 in 5 believe that retirement age is possible.
A third want to be a manager … within five years.
About three-quarters believe they will have to work harder than those from earlier generations in order to have a fulfilling and satisfying professional life.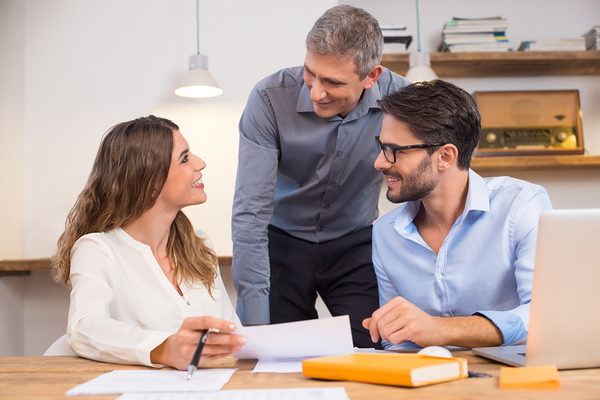 Expectations: What New Grads Look For
The internet is filled with stories giving advice to new grads about what to look for in an employer. This information can provide helpful insights to hiring managers and recruiters about what younger employees are being told. Among the advice is:
Look for bigger organizations. A Fortune magazine article encourages new grads to think twice before going to that scrappy internet startup or passionate nonprofit agency. Without structured Human Resources departments, smaller, less mature organizations can struggle to provide the experiences and planned career growth that is essential to learning key skills. Grads are advised to steer clear of organizations without a formal HR department or clearly defined job descriptions.
There are jobs everywhere. While big cities may have some allure for newly minted grads, the same article encourages graduates to look beyond New York, Boston, and San Francisco. Smaller and more rural cities can still have the social perks and transportation options they crave, while providing cheaper living expenses and more space.
Have fun. There is a lot of encouragement given to young employees to enjoy themselves and not feel obligated to focus on finding either their perfect job or career right out of college. Instead, young professionals should absorb the experiences and appreciate the skills being learned.
Fostering Success for New Grads
How, then, can hiring managers help their newest employees? In addition to understanding the generational mindset and what they are expecting from an employer, it helps to have the right programs in place to foster growth. This means employers need to have the right training programs in place, even for entry-level jobs.
Even in the most basic roles, there is a need for critical thinking, customer service, and problem-solving. Organization and attention to detail are essential with any job description.
Hiring managers, in tandem with HR colleagues responsible for talent management, should consider training programs that go beyond teaching hard, specific, job-related tasks. Training for soft skills can, in the long run, have a significant benefit for the organization and its employees.
Cultural ideals can also factor into the development of the right training program. That means making sure employees have a clear sense of corporate values and providing information, mentors, and training that explain and reinforce those values.
Some companies are becoming more proactive with their potential future employees. Onboarding programs, webinars, and skills assessments can test for and teach employees technical knowledge early on in their careers. Others are developing candidate pipelines that leverage social media tools and training programs to identify talented candidates and build relationships with that talent well before a specific job vacancy occurs.
With this much investment in employees and their growth, retention becomes essential. Younger employees are more apt to hop from job to job, believing that the experiences gained at different workplaces gives them a better understanding of an eventual career path.
Employers that can help younger workers see a viable, successful, and gainful career path within an organization not only retain talent, but eliminate the cost of replacing employees.
The Vocate Advantage
At Vocate, we help connect companies with talented employees for internships and full-time jobs. With Vocate, you can connect to talent that matches your specific needs, reduce the time and cost to hire, increase diversity, and streamline your application process for entry level jobs.
For college students and recent grads, Vocate helps match your talent with employers eager to provide great jobs after graduation. For graduate jobs, 2017 is shaping up to be a great year. Vocate provides you with a great way to complete one application for thousands of jobs in many industries and many locations. We provide tools, resources, services, and support to help you with a successful launch to your career.
Whether you are about to graduate or are a hiring manager looking for the next generation of talent, click here to get started with Vocate.